Byte. Jazz Byte
NEW MOVIE. What's Jazz?: The Lou Caputo Story
Just wanted to let everyone know that I was the subject of a short documentary, "What's Jazz?: The Lou Caputo Story," made by my son Matt Caputo and his friends from Elmwood Films. This little film is a timeline of my musical career up to now, including The Not So Big Band. It is loaded with old photos, archival footage of me playing and stories from my many years in music; including playing the 50th birthday party of Bill Clinton, performing and recording with legendary conga player Candido, with Tony Bennett at John Mayer's father's birthday party, performing at Ronnie Scott's in London, and also with The Not So Big Band through the years.

What's Jazz?: The Lou Caputo Story
https://vimeo.com/191116483
Also wanted to let you know that we have launched a Facebook fan page at long last and you can hit like on that here:
facebook.com/loucaputojazz
Thank you so much for your continued support.

Best,
Lou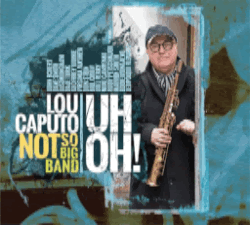 New CD
Lou Caputo Not So Big Band "Uh Oh!"
(Jazzcat 47 Records JC1825)
LOU CAPUTO (ALTO, SOPRANO, BARITONE SAXOPHONES, CLARINET, FLUTE AND ALTO FLUTE), GEOFFRY BURKE, VIRGINIA MAYHEW (SAXOPHONE), JOHN ECKERT, DAVE SMITH (TRUMPET), JASON INGRAM (TROMBONE), DALE TURK (TUBA), BILL CROW (BASS), JOEL PERRY (GUITAR), DON STEIN (PIANO), MIKE CAMPENNI & RUDY PETSCHAUER (DRUMS), WARREN SMITH (VIBRAPHONE) AND EDDIE MONTALVO, LEOPOLDO FLEMING (PRECUSSION)
http://loucaputo.com


TRACKS:

1. BLACK NILE 6:08
2. LOS CIELOS DE AYER 6:12
3. UH OH! 4:58
4. MIDNIGHT IN BERLIN 6:12
5. FESTIVAL 5:24
6. STOLEN MOMENTS 8:22
7. NEWS FROM BLUEPORT 4:18
8. GUIJIRA 6:46
9. APE AND ESSENCE 8:02
10. IF YOU COULD SEE ME NOW 7:07
11. FRIED BANANAS 4:22
12. BUSY BUSY BUSY 7:13


Uh Oh! is the latest installment in the recorded history of "The Not So Big Band"preceded by "Urban Still Life" and the follow up "Not So Big Band" Those project were co- produced by my great friend,mentor and jazz bassist Chris White (1936- 2014) who also performed and arranged music for those projects as well. We would like to dedicate this project to his memory.
The "Not So Big Band" is the brainchild of talented multi-instrumentalist Lou Caputo.It is a big band that consists of twelve musicians as opposed to the sixteen-piece or larger variety. This band is a working band, playing together for over 10 years. The band has performed for over a decade at "The Garage" in Greenwich Village, as well as performances at the "John Birks Gillespie Auditorium" located in the "Baha'i Center" in NYC , also at "Trumpets" and a regular attraction at St Peter's Mid Day Jazz series along with concerts at Hofstra and Montclair Universities. The band has two CD's out (Urban Still Life & Not So Big Band) that have enjoyed considerable airplay and both have been very well received. by the jazz press A third CD (UH OH!) will be released in 2016. All of our music is currently available from most digital vendors like iTunes CDbaby and through streaming services, such as Spotify.
Lou Caputo, a native of Williamsburg, Brooklyn, has done almost every kind of job that a musician can be asked to do. He has performed in jazz clubs in London (Ronnie Scott's) and all over the Northeast area as well. A multi-instrumentalist (saxophones, clarinets and flutes) he has performed in show bands with the likes of Lou Rawls, Harry Connick Jr, The Temptations, The Four Tops and Shirley Bassey. He has also performed with Howard Johnson's five Bari Saxophone group (Beartones) as well as Warren Smith's Composers Orchestra and The Ellington and Dorsey bands. He is a member of Jack Jeffers New York Classics and has performed with The Cotton Club Orchestra Recently Lou performed on Harry Connick's album "Your Songs"
Also featured in "The Not So Big Band" are noted musicians like percussionist Eddie Montalvo (Grammy nominee, Latin Grammy winner, Fania All-Stars), saxophonist Virginia Mayhew (Saxophone Journal Saxophonist of the Year), trumpeter John Eckart (Performed with Toshiko Akiyoshi and Lee Konitz), legendary bassist and jazz author Bill Crow (performed with Gerry Mulligan and Phil Woods), Geoffery Burke (performs with Harry Connick Jr.) Warren Smith who has performed with everyone from John Cage and Gil Evans to Barbra Streisand and all stops in between Just to cite some of the band members.